Put Your Best Smile Forward
Teeth whitening is a popular cosmetic dentistry procedure done to brighten up your smile and give your teeth a polished look.
Your teeth will naturally darken with age, and this is completely normal! That's why we offer in-office and at-home whitening treatments to suit your lifestyle. With our Zoom whitening treatment, we can lighten the natural discoloration of enamel and dentin. This in-office treatment is popular and effective, and can give you the confidence you deserve to smile bigger and brighter.
At our clinic, you'll be met with experienced and friendly professionals. We will provide you with a comprehensive assessment of your oral health.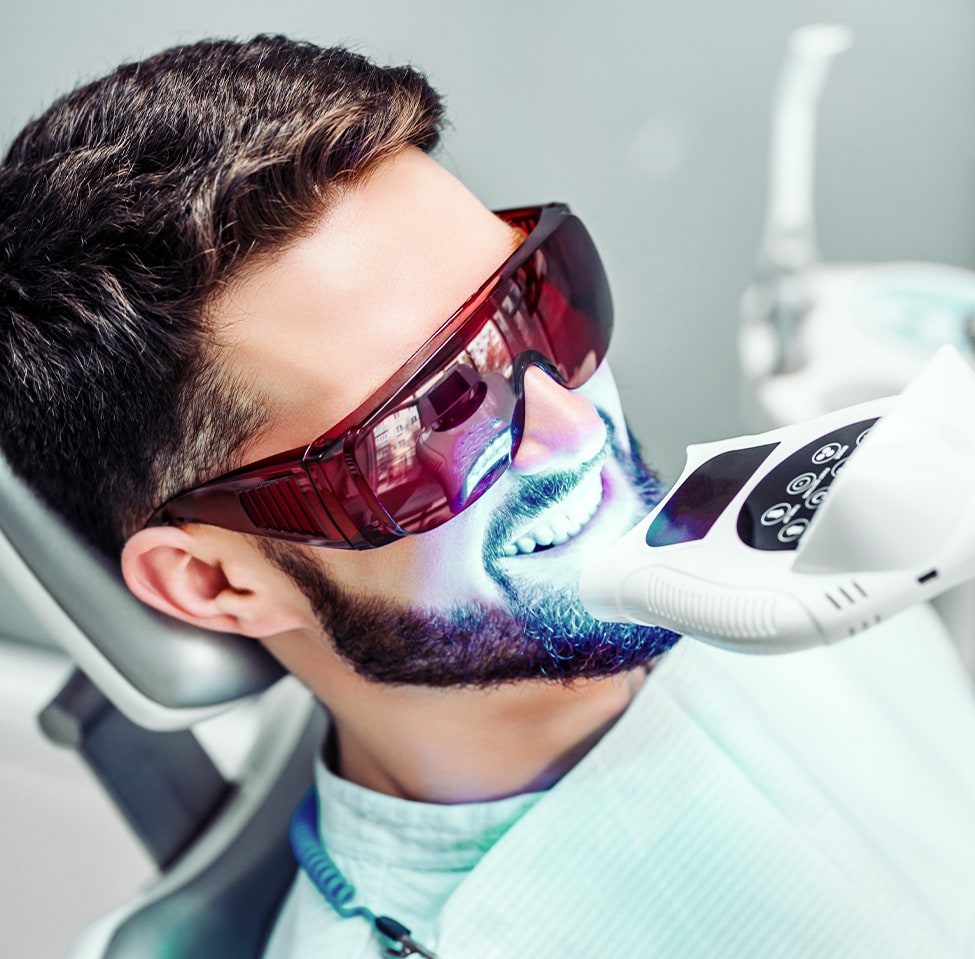 Free Whitening for Life
You deserve to love your smile. We make it easy.
All of our patients who with a regular hygiene appointment and dental exam will receive a free teeth whitening kit to use at home. The best part? We'll refill your kit every 6 months for as long as you need!
Your oral health is our top priority whether you're in our office or simply flossing at home. We're here to help you smile brighter, bigger, and for years to come!
Zoom Teeth Whitening in Office
We offer in-house teeth whitening treatments with Zoom!
Zoom is a bleaching process that takes about 1 hour and is designed to brighten your smile. It's important to schedule regular teeth cleanings even if you get your teeth whitened. The Zoom hydrogen peroxide whitening gel is applied to your teeth to break up stains and discoloration.
Contact us today to see if Zoom is right for you.
The Teeth Whitening Process
At TLC Family Dental Centre, we want to ensure that your teeth whitening procedure is safe and effective.
Although teeth aren't meant to be completely white, many Canadians want a brighter smile, and our team at TLC recognizes that! We strive to give you the best service possible and make sure you're informed throughout the process.
There are some different types of teeth stains you'll want to look out for:
Extrinsic teeth stains are stains on the surface of the tooth and are typically caused by tobacco use or regularly drinking coffee and tea.
Intrinsic teeth stains are stains below the surface of the tooth. These stains are tougher to remove and may require bleaching.
Age-related teeth stains combine the results of intrinsic and extrinsic tooth stains. This process is a normal, age-related, natural discolouration of your teeth.
The TLC goal is to put you at ease and walk you through all your options and treatment methods for teeth whitening.
Preventing Teeth Stains
Nobody wants invasive teeth stains.
At TLC Family Dental Centre, we're all about convenience and providing guidance when it comes to your teeth. Practicing good dental hygiene habits like brushing and flossing daily is a great first step to tackling stains on your teeth.
Proper maintenance of your teeth whitening procedure comes down to monitoring some daily habits. These habits range from cutting back on smoking to limiting your coffee, tea, or acidic food and drink intake.
Book an appointment today for more information on our teeth whitening procedure—we look forward to brightening your smile!
Our Location

Our Address
5209 Discovery Way #4

Leduc

,

AB

T9E 8N4
Our Hours
Monday

:

12:00 PM

–

8:00 PM

Tuesday

:

8:00 AM

–

4:00 PM

Wednesday

:

8:00 AM

–

4:00 PM

Thursday

:

8:00 AM

–

4:00 PM

Friday

:

8:00 AM

–

3:00 PM

Saturday

:

Closed

Sunday

:

Closed